Digital textile printing 
Digital printing successfully complements the possibility of textile printing on screen printing carousels in our company. We print on the most modern machines of the Israeli company KORNIT DIGITAL, for which we are also the exclusive distributor of these machines, inks and other consumables for the Czech and Slovak Republic.
The benefit of digital technology lies in the possibility of full-colour printing with a high-resolution photographic quality. This process in contrast with the screen printing allows printing practically from one piece.
Digital printing on KORNIT DIGITAL machines
Digital printing is ideal for full-colour print on light and dark textiles of small and piece orders of textile garment and print of piece textile cuts.
It allows printing of graphic motifs, photos and motifs supplied by the customer.
Digital printing enables to print on cotton but also on cotton blend - polyester, elastane, lycra, terry and denim.
It is printed directly on textiles and the print is resistant to washing and UV radiation. 
The print is friendly to the touch.
Orders are carried out in a very short delivery times.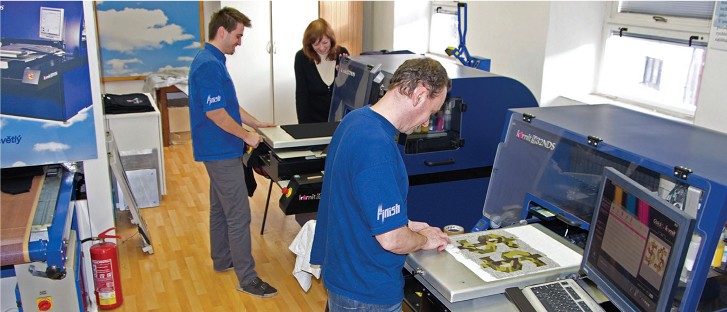 FINISH as an authorized dealer of Fruit of the Loom and Russell textiles has a large variety of textile steadily in stock which allows to hasten the delivery of orders as much as possible.  After the agreement print on textiles supplied by the customer.
Digital full-colour printing with a very small series is especially beneficial for:
-       Print workshops for prints of small series  
-       Advertising agencies  
-       Clubs, associations, municipalities  
-       Print for special occasions - parties, celebrations, weddings, etc.  
-       Creative original models  
-       T-shirts for graduates of all types of schools   
-       Individual gifts even one piece  
-       Small series of complicated full-colour prints  
-       Printing on difficult printable materials  
-       E-shops
Technical equipment 
We have the Kornit DIGITAL machines that are world leaders in the field of DTG printing - Direct To Garment. 
The DIGITAL KORNIT machines use  water-based inks, which are specially developed for textile printing.
The printing is environmentally friendly, colours meet the highest international standards Oeko-Tex Standard 100
and GOTS V.2 and V.3.
We print up to format 350x450mm at maximum.
Data for the print 
Grafics in Corell Draw, Adobe Illustrator, 
Photoshop cca 300 Dpi on a transparent background,  
Digital photos jpeg, jpg in an original size 1:1
Non - digital documents such as photo, drawing, graphics, printed matters (additional charge for data processing is possible)
We immediately send the calculation based on demanded amount, motif size and garment colour.
NOTE: Due to trichromatic colour printing (CMYK) and the nature of textiles colouring according to the PANTONE can not be strictly observed. 

Mgr. Alexandra Šťastná
Mgr. Alexandra Šťastná 
director´s asistent, 
manager for digital textil printing
phone: 466 304 360
e-mail: Mgr. Šťastná