Materials for screen printing 
Squeegee rubber system Serilor®
All serilor® polyurethane squeegees are produced by computer-controlled casting process that guarantees uniformity of the production from batch to batch.
serilor ® is the most widely used trademark of squeegee rubbers in the world.
The company FIMOR has a long history in continual development with new recipes of polyurethane and focuses all products on screen printing industry.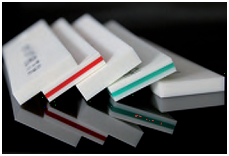 Serilor® HR1 a HR3
The highest quality of polyurethane FIMOR with the best resistance to abrasion and   chemicals; serilor® HR is the most widely used type of squeegee.
They supply profiles with dimensions 50x10, 40x8, 35x7 mm (3.66 m package)
HR1 (monolayer)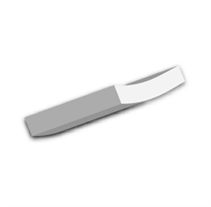 hardness:
white - soft 65shA
white - medium  - 75shA 
white -  hard  - 85shA
HR3 (three - layer)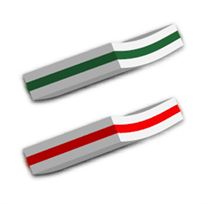 hardness:
                        - white/green/white - medium/hard/medium -75/95/75shA
                         - white/red/white - soft/hard/soft  65/90/65shA            
SERILOR TXS3
squeegee 55/90/55 shA specially developed for textile printing 
hardness:
 Squeegee specially developed for textile printing
Suitable for printing on dark textiles, on thick paint, gels, also for non-woven textiles.
orange/white/orange – extra soft/hard/extra soft – 55/90/55shA  
 - profil only 50x9,5 mm

Serilor® SR1 a SR3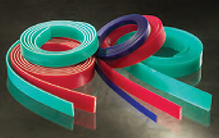 Basic series of squeegee belts FIMOR. Standard type is delivered                         only in a size of  25x5 mm, monolayer or cut into the wedge at an angle of 60°.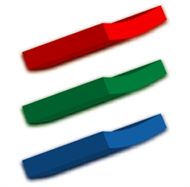 red - soft - 65 shA
green  - medium  - 75 shA
blue - hard - 85 shA
When choosing a squeegee rubber:
*   hardness
- soft (65 Shore) most often used for textiles, thicker coating, good coverage, for low viscous colours - medium (75 shore): universal, text and halftones, solvent-based and UV inks - hard (85 shore): fine coating, best for raster printing and fine lines, for colours with a high viscosity, UV colours
other hardness between said values (60, 70, 80, 90 shore)- two- and three-layer rubber (e.g. shore 65/90/65)
*   dimension
- squeeegee dimensions must be a bit beyond a printed motif- leave enough space between the frame and rubber- ensure a sufficient free height of rubber
When you use squeegee rubber
  - print angle: mostly 75-80°, depending on the colour, fabric and machine                                            - avoid excessive pressure on the rubber                                                                                              - instead of it use a controlled stretched mesh                                                                                     - clean the rubber with non-aggressive chemicals                                                                                - do not leave the rubber in the ink or solvent
Squeegee belts SAATI   

The same qualitative rules are valid for these belts as for the previous ones. There is, however, the offer of toughness in seven grades from 50 to 90 shA and in rectangular, square and special profiles (V-shaped cutting edge - two sided /duplex, V - one sided, or round). We also offer profiles with a dual hardness (hard body - 90 shA and soft head - 50-80 shA) and a composite one (squeegee carrier is a glass fiber).
Squeegee belts FIMOR
Branded squeegee belts with a high quality at a reasonable price .
Polyurethane squeegee belts in a collection with dimensions suitable for all manual screen printing devices and screen printing machines, with a high abrasion and chemical resistance. They are mainly available in three degrees of hardness from 60 to 80 shA. Sqeegee belts are cast and therefore with a careful installation for immediate use without grinding of printing edges. 
They are made in HR I - single-layer squeegee 

HR2 - double-layer sqeegee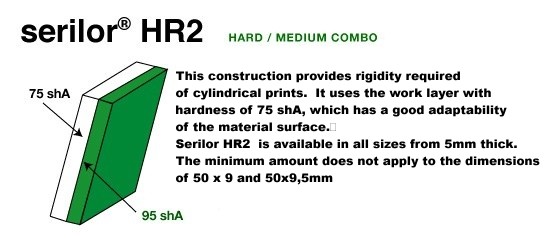 HR3 - three-layer sqeegee

and  the newest HR5 - five- layers of different hardness. This special sqeegee has an excellent vibration absorption.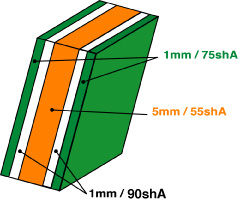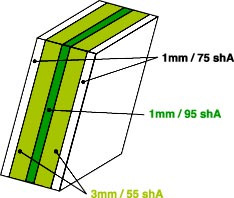 SR1 and SR3 are economical types of squeegees in one or three-layer design for all applications.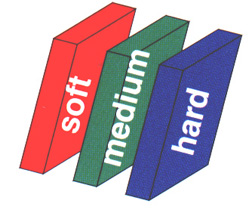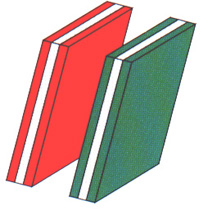 Type AS is a sqeegee with the same properties as the type of HR. In contrast, however, it is antistatic and therefore suitable for machine flat printing.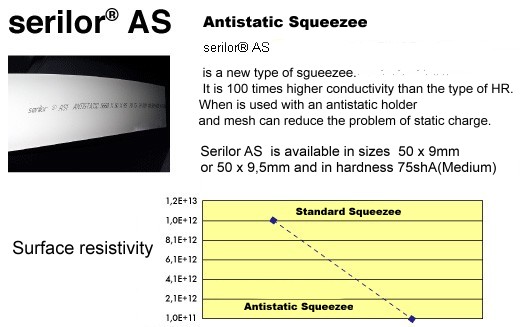 Type Cd is a quality squeegee for printing on Compact Discs (CD, DVD, ....) and similar products. The squeegee is made of polyurethane, with excellent abrasion properties and a high resistance to UV radiation.
Type CERAM is a squeegee designed for printing on ceramics. It is produced in a special hardness of 40, 45, 50 and 55 shA.

Available profiles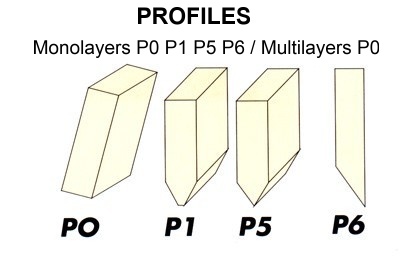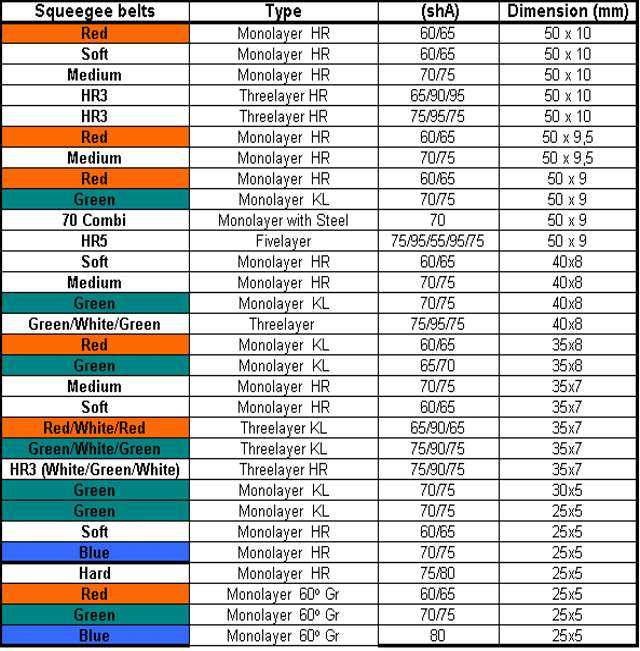 MANUAL SQUEEGEE HOLDERS
We offer universal hand squeegee holders of a special patented anodized aluminium profile in any length. They are designed for squeegees with a width of 5 to 10 mm and with a height of 25 to 50 mm.
MACHINE SQUUEEGEE HOLDERS 
We deliver universal squeegee holders of a special patented anodized aluminium profile in any length for squeegee belts.
RUBBER FOR  VACUUM FRAMES  – as a spare part
We have a special rubber with a high ductility (800%). This rubber has a high resistance to UV radiation. 
 
EMULSION  SCOOP  COATERS  
We offer a high quality aircraft aluminium with removable side panels in lengths from 8-108 cm.  As an equivalent, we supply trays made of stainless steel in lengths of 5-75 cm. The quality is not behind the aluminium ones, however, they are about 50% cheaper. 
 
Screen printing frames 
We deliver screen printing frames made from aluminium or steel profile of 20 x 30 mm, with a special komaxite coating resistant to solvents. 
In our stock there are steel frames with the following external dimensions: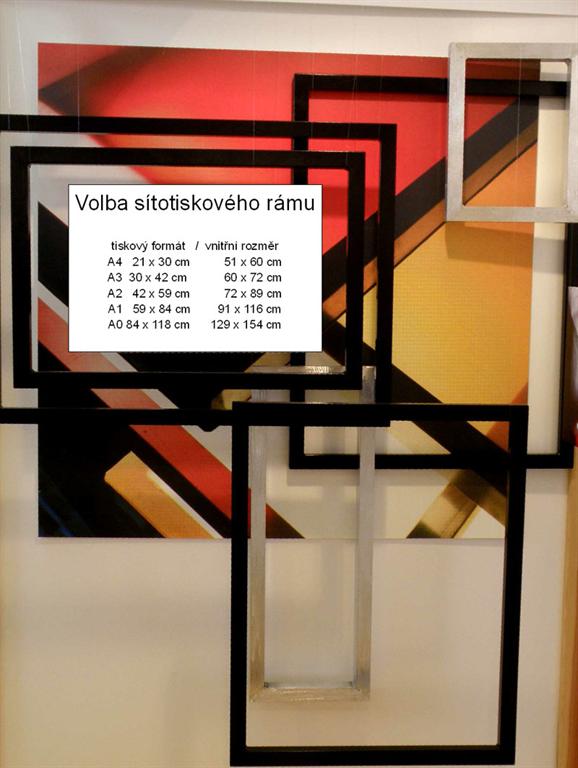 300 x 430 mm
430 x 630 mm
540 x 690 mm
600 x 800 mm


Aluminium frames are made to customer order from square profiles with dimensions:
30 x 30 mm/2mm thickness
40 x 40 mm/2-4mm thickness
40 x 60 mm/2,5-4mm thickness