Exposure – illumination unit FA 3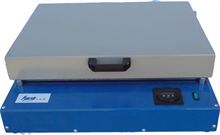 Exposure – illumination unit FA 3
Exposure – illumination unit FA 3
The product is designed to expose photopolymer plates for pad printing or hot stamping. It is equipped with special fluorescent tubes producing optimal range of light.
Exposure time is adjustable and ending of exposure is announced by an audible signal. The draft is next beneath transparencies pump, guaranteeing perfect copy originals on the photopolymer plate. FA3 unit meets all requirements for this type of equipment.
Power consumption of the unit is 100W.
Technical specifications
Power 230 V
Dimensions 65 x 41 x 15 cm
Weight 12 kg
Technical specifications
| | |
| --- | --- |
| Power supply | 230 V |
| Dimensions | 65 x 41 x 15 cm |
| Weight | 12 kg |