PULVO compact semi automatic screen printing machine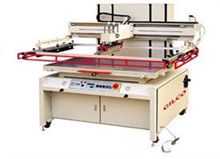 PULVO compact semi automatic screen printing machine
Main features:
- Universal screen printing equipment suitable for printing on any rigid, semi-rigid and flexible materials with stock thickness up to 30 mm.
- Vertical screen lifting system to minimise the air turbulence, and to prevent any unnecessary ink flow on the screen.
- The printing head is guided on two precisely ground pillars, to ensure the smooth operation, free from any vibration.
- The printing frame is fixed on the master frame with the support from the patented design rigid side arms, guaranteed the highest printing repeatability.
- The snap off distance is centrally adjustable with a single hand wheel, quick set up and easy adjustment.
- PROGRESSIVE PEEL OFF SYSTEM (PPO™) --- the screen peel off action is automatically controlled by the advanced hydro-pneumatic system sychronised with the squeegee action.
- Motor driven printing carriage, running on the double parallel high precision Linear Motion Guides, ensured the smooth squeegee movement for achieving the highest performance in quality printing.
- The squeegee and flood coating speed are independently adjustable, adjustable stroke length with the advanced non-contact proximity switches.
- Pneumatic actuated squeegee/flood coater change-over with INTERACTIVE SQUEEGEE PRESSURE SYSTEM (ISP™), that the squeegee pressure is optimised evenly throughout the printing cycle.
- Backlash free X/Y/Z adjustment on table with self-locking system, guaranteed at the spot precise adjustment without any table shift.
PLC control.
Technical specifications
| | |
| --- | --- |
| Max. printing size | 45 x 60, 60 x 80, 60 x 100, 80 x 150, 80 x 170, 100 x 150, 100 x 170 cm |
| Max. substrate height | 4 cm |
| Power supply | 400 V |
| Air consumption | 75 l/min |