Screen printing
Print substrates and material  
• Printing on paper, cardboard, PVC and paper stickers, plastic and acrylic sheets for light advertising, printing on PE and paper bags.   
• Printing on coated steel or aluminiumm sheets - parts, stainless steel sheets, composite materials, for example dibond, plastic shapedmouldingss, advertising and promotional items. 
• Finalization of offset printed materials - both partial and flat UV glossy and matte varnish, wiping colours, reflex and fluorescent colours, reprints of invitations, books, posters, calendars, etc.
Technology process 
• We use solvent-based, water-based and UV inks with excellent properties for deep stretching and with a long-term outdoor colour stability. Inks have a top effect in fluorescent tube light.
• Print with special effects - metallic effect, printing on transparent materials, two-sided stickers on glass, printing on reverse side of plates for light advertising, toning of colours according to delivered standards.
• Raster printing with a high-resolution printing.  
• Printing on floor graphics, including lamination of safety anti-slip foils.
• Partial and surface UV coating to B1 format.
• Print on laminated sheets.  
• Special effects - toned UV varnish, relief UV varnish, metallic effects, matte UV varnish, anti-slip varnish.
• Daily capacity: 10 000 – 15 000 prints.
Cylindrical objects printing 
We have an equipment for round and cylindrical object printing - bottles, cups, etc.
Printing workshop is equipped:
3/4 automat (print format 750 x 1050 mm) with connection to a combined UV tunnel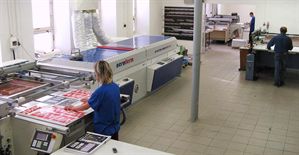 3/4 automat (print format 750 x 1050 mm) with connection to a UV tunnel 
1/2 automat - (print format 1000 x 1400 mm), a print hight up to 50 mm
1/2 automat – (print format 350 x 500 mm), a hight of printed objects up to 100 mm
Manual screen printing equipment for print of small series and print of atypical semifinished products.