Screen printing carousel Lightning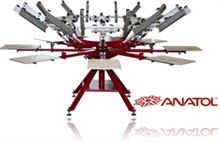 Screen printing carousel Lightning
Screen printing carousel Lightning
The manual carousel Lightning is typical of carousels, designed for many years a trouble-free printing. Its low price is without compromis of quality. Conversely, for their high quality is best in class. Lightning is produced in versions for 4-colour / 4-station, 6-colour / 4-station, 6-colour / 6-stations, an 8-colour / 4-stations and 8-colour / 8-stations.
Anatol suggested the carousel so, that it is lightweight, but sturdy enough for quick and easy setup. We offer also heavier industrial handheld carousel named Thunder. Lightning is designed to achieve maximum print quality and productivity.
It is configured with maximum dimensions of 66x91 cm. The carousel is equipped with side-mount network. Pallets are fastened fast clamping system Anatol or slide .
The carousel allows, thanks to accurate design, printing all stations simultaneously.
Diameter machine .......... ...........345 cm
Max. ... ............................ .........printing size 51 x 61 cm
Weight ................ ..................... 158 kg