Screen printing carousel Horizon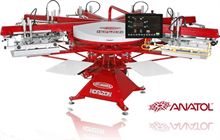 Screen printing carousel Horizon
'Horizon carousel is loaded with features that are easy to use. This allows you consistent, reliable and high quality printing at production speeds up to 900 prints per hour. This is then related a quick return on investment.
Due to its speed, flexibility and performance, Horizon to make most of even the most demanding customer requirements. Horizon structure is designed so that it exceeds the usual industry standards. When it is compatible with most registration systems. Horizon is a high-quality, affordable screen printing carousel.
1st Horizon - 1618 - electric or air-controlled print head, the 6-10"s color model, the maximum printable area of 41cm x 46cm, the maximum screen size of 58cm x 79cm, pallet size 41x55cm.
2nd Horizon - 2021 XL - electric or air-actuated heads 6-10 the model"s color, with a maximum print area of 51cm x 51cm, the maximum screen size of 66cm x 91cm, pallet size 41cm x 55cm.'