Carousel FK Profi 6b, 8b, 10b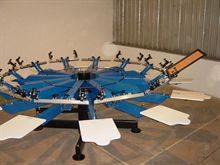 Carousel FK Profi 6b, 8b, 10b
Carousel FK Profi 6b, 8b, 10b
The new series of carousels for textile printing with high user comfort. Produced in versions for 6, 8 and 10 colours.
In their construction were utilized all experience in the design, manufacture and operation of previous successful types of carousels.
Their streamlined and rigid construction prevents bending of the arm during printing. Micrometer screws enable fast, very fine and precise adjustment of screen in all desired directions. Perfect lateral clamping of frames increases accuracy. Simple adjustment of the printing unit and the board is also possible non-contact printing with setup of breakaway.
The device has a pivotable frames and the plates. Balance of frames is adjustable.
Newly is solved centering of frames in working position. The new design allows precise printing on multiple workstations simultaneously.
The preferred ratio of utility value and price, which guarantees an early return of money.
Technical parameters: 6b FK FK P P P FK 8b 10b
Max. diameter 2800 mm 3200 mm 3700 mm
Work height 930 mm 930 mm 930 mm
Max. frame size 540x690 mm, 540x690 mm
Standard size plates 400x600 mm 400x600 mm 400x600 mm
Weight 180 kg 220 kg 270 kg 320 kg