Screen printing carousel Trident II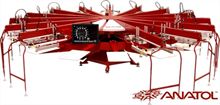 Screen printing carousel Trident II
If you need to print on textiles height amount, select Anatol Trident II.
Trident II is a high performance automatic carousel.
Trident is designed for high volume printing of textiles and offers quick setup, impressive print speeds, efficient processing and other functions.
You get the consistent quality you need for your operating 24 hours a day, 7 days a week.
Trident is available with 10 to 20 stations, 8-18 colours. Maximum print area 51x72 cm.