Screen printing carousel Vindicator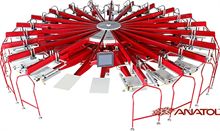 Screen printing carousel Vindicator
Anatol series Vindicator carousels are at the highest level is designed for users who require and need the best. Professional printing and high performance are the beginning and end of the perfect job. Quality and workmanship of this series of carousels is far from basic "entry-level" models. Vindicator is the best choice of large, high production screenprinting presses. It provides everything you need so you can print from simple to 20 colours patterns.
Vindicator is available with 10, 12, 14, 16, 18 or 20 print stations with a maximum print area 51x72 cm.
Vindicator uses digital touch screen display that is running in Microsoft Windows. Safety is always a major concern, and so the machine is equipped, inter standard safety features and the sensor beam.
All details can be found in a table.