Screen printing table with the guided squeeze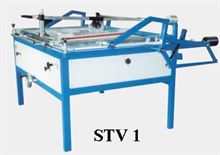 Screen printing table with the guided squeeze
Screen printing table with the guided squeeze
Unilaterally guided squeeze enables printing of large formats. The table has a duralumin suction plate. The device enables easy and quick registration adjustment in all three axes by means of micrometer screws. Stencil snap-off is adjusted by vertical movement vacuum plate. Printing frame is perfectly balanced and allows easy tilting. Table structure allows printing formats longer than the size of the table, thus printing material from the reel (models SM1 STV1, STV2, SPVxP).
Easy and accurate management squeeze allows suspension of linear bushings on ground rod. It comes with an oil-free vacuum pump characterized by high reliability and quiet operation. Suction is controlled automatically by the movement of the print frame.
Max. print format: 70 x 50 cm till 125 x 180 cm pozor chyba v české verzi !
Max. height: 8 cm printed object
Power: 230 V
Dimensions: 140 x 135 to 210 x 200 cm
Weight: 80 - 300 kg
Technical specifications
| | |
| --- | --- |
| Max. printing size | 70 x 50 až 125 x 880 cm |
| Max. substrate height | 8 cm |
| Max. frame size | cm |
| Machine type | |
| Power supply | 230 V |
| Dimensions | 140 x 135 až 210 x 200 cm |
| Weight | 80 až 300 kg |
| Air consumption | 0 l/min |