Drying tunnel ACE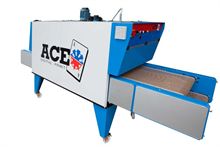 Drying tunnel ACE
Hot air drying tunnel for screen printing inks made with solvents or water-based.
The maximum operating temperature is 180 ° C. The two bands superimposed with variable height adjustment. The air is heated by electric heaters. Air is pushed vertically into the tunnel with the new air distribution system so that the stream was uniform throughout the tunnel. The circulating air is filtered, to maintain purity and high drying efficiency. It is equipped with a suction system. Speed conveyor belts are both independently adjustable. Centering belts is a manual operation using screws.
Benefits
The tunnel is designed primarily for drying digital printing on dark textiles. Excellent for delicate fabrics such as wool, lycra, silk etc .. The temperature in the tunnel is constant throughout the interior. The temperature of the conveyor belt is about 10-15 ° C lower and thus improves the quality of the fastening and allows the operator to touch the printed garment without risk of burning. Tunnel insulation ensures low power consumption and excellent performance.
Technical data:
Power supply 3 x 400 V / 13 A
Power consumption 9.5 kW
Max. temperature 180 ° C
Dimensions: 3800 x 910 x 1800 mm
Weight: 440 kg