UV Vario Table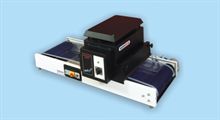 UV Vario Table
UV vario table
tabletop UV dryer (B3 size)
UV curing equipment for curing of UV inks behind the different types of screenprinting machines. The design of reflecting mirrors from the special material with high reflectivity for UV range as well as the design of the UV source gives very high uniformity of UV energy with low temperature influence to the printed materials.
The UV curing chamber is equipped with one UV lamp. The whole temperature influence to the printed material is eliminated with temperature filter and by low preassure cooling by air. For conveyor belt drive is used the threephase careless electromotor controlled with the frequency invertor. The belt speed can be changed continuously. The belt with high mechanical resistance is from the fibreglass fabric, PTFE covered. The cured material is aerodynamicaly fixed on the belt. Perfect ozone exhausting. Special shields for safety operation. Table-top design, controlling panel with safety central STOP button and main switch of the equipment. The perfect noise insulation, top function, simple operation, modern design.
There are including the noise insulated exhausting and cooling fans in this complet. The dryers design and operation agrees with all needed regulations of Europe Union countries and the equipment has CE declaration.
Parameters UV VARIO"3" 420/14f Table 120t UV VARIO"3" 420/14f Table (2x120)t
belt width [mm] 420 420
irradiated width [mm] 360 360
max. heigh object [mm] 30 30
belt speed [m/min] 2,5 - 15 2,5 - 15
linear UV power [W/cm] switchable 60/120 switchable 60/120/180/240
dryers dimensions [mm] 1400x700x600 2000x700x600
installed power [kW] 5,5 10
electric supply 3 N PE 400 V 3 N PE 400 V