Vacuum copying frame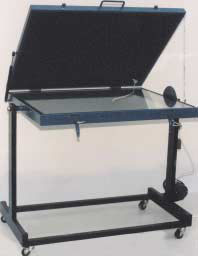 Vacuum copying frame
The device is intended for the precise copy of original motifs on the screen.
The frame is turning with the possibility of fixation in vertical and horizontal position.
The device is characterized by simple and easy operation.
Vacuum copying frames are made for screen frames with exterior dimensions 78x90cm, 107x90cm, 123x148cm and 152x186 cm or custom in atypical sizes.
Technical specifications:
Max. screen-printing frame size: 78 x 90 to 152 x 186 cm
Power: 230 V
Weight: 40-150 kg
Technical specifications
| | |
| --- | --- |
| Max. frame size | 78 x 90 až 152 x 186 cm |
| Power supply | 230 V |
| Weight | 40 až 150 kg |