Vario 3 HA Table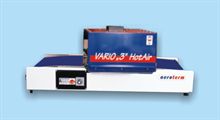 Vario 3 HA Table
Tabletop HotAir VARIO "3" HA dryer
HotAir dryer in table-top design for drying of solvent based inks in polygraphy. The dryer works with high-speed and high turbulent air flowing, due to this could be minimalized the dimensions as well as energy needs of the dryer. The temperature regulation is possible in two steps, The system is not supply with temperature regulator.
The conveyor belt of the dryer is equipped from mechnically and temperature high resistent belt made from glass fiber PTFE coated. The belt drive is through the DC motor with electronical non-step regulation of belt speed. Fume exhausting, automatical safety switch-off when the safety temperature is exceeded, perfect temperature insulation, perfect noise insulation.
The equipment is designed and produced to meet requirements of regulations and standards of European Union countries regarding the design, running and safety of operation and it has a CE declaration.
Parameters VARIO"3"HA 420/14 Table
belt width [mm] 420
length of HA section [mm] 600
length of loading section [mm] 550
length of unloading section [min] 250
the whole dryer length [mm] 1 499
max.temperature of HA section [°C] 55
total installed power [kW] 2,5
electric supply 1 x 230